Unity Days 2019 that took place January 4th-6th, 2019 was a wondrous occasion in Vancouver for The 100 fans and its cast to celebrate and connect.  The environment was nothing short of loving and positive, along with capturing memories one could not forget.  It was truly a weekend to remember. 
Comfort in a Convention
To fully encapsulate the Unity Days experience, there has to be a joyful ambiance.  It is the core goal and hope of any convention, and Unity Days 2019  exceeded their expectations and beyond.  Thanks to the dedicated and passionate organizers of Unity Events Canada, fans of the popular CW show, The 100, they were able to have a life-changing event and share it with others, included the cast that made appearances at Unity Days.
Unity Days is a place where a fan can feel safe and accepted, without the fatales of fandom online.  These behaviors often emerged from polarizing opinions and character favoritism backlash.  At Unity Days, all of that was erased because only love and support existed.  
Season 5 Stories And Reflections
While the cast remained under wraps about revealing major season 6 spoilers, they opened up about their share of season 5.  Season 5, in my opinion, both as a viewer and reviewer, has been an emotional trek.  We have Clarke embracing motherhood, Bellamy taking leadership all his own, Octavia masking into the formidable Blodreina, and Abby combating a dangerous drug addiction.  Whilst some of the scenes unfolded gave an infinite scare, penetrating into our minds, they were the necessary building blocks for character growth.  
Paige Turco shed light on the growing opioid addiction by crafting what she learned from loved ones' own addictions and embodying the material into Abby.  Turco did a phenomenal job revealing the tormented and traumatized side of her character, making the audience open their eyes and aware of the dark and painful world of drug addictions.   The most challenging role of it all is the rage and anger that correlates with dependency-as both Turco and Lindsey Morgan (Raven) were apprehensive about doing the brutal scenes as Abby had to shock Raven as she refused to configure the X-Ray so that the prisoners wouldn't survive their disease.  The same emotional stance can be reflected during Abby's detox scene with Clarke; she had to be cruel.  Delivering such harsh responses only broaden the three ladies' acting ranges, taking their craft on a whole new dimension.
Despite The 100's pivotal dark thematics and mirroring plots, Turco tries to keep things "happy" behind the scenes.  She effortlessly tries to make one of her fellow cast mates laugh.
Along with Abby's narrative in season 5 (Turco's own idea), other cast members-Tasya Teles, Sachin Sahel, Richard Harmon, Chelsey Reist, Tati Gabrielle, Shannon Kook, Erica Cerra, Jarod Joseph, Eliza Taylor, Luisa D'Oliviera, and Lola Flanery all shared their experiences and what they have perceived over six seasons of the show.  For instance, Tasya observed that The 100 is ahead of the television curb, emulating different strengths, and her study of Echo opened her heart as Echo is the most pained, and needs the most love.  Another is when Sachin explained how he envisioned and finding himself as a person for his The 100 course.
Eliza Taylor's Epiphany
When Eliza Taylor opened the pilot script, she was blown away by the concept, its promise and value of a strong story; feeling as though she was reading for a feature film.  For six seasons (hopefully more!), we witnessed Taylor embody Clarke Griffin, following her journey with the ups and downs, feeling her emotions, and fighting the battles beside her.  Clarke has also become an empowering women's rights advocate and a positive role model for the LGBT community.
While the character of Clarke has ignited hope, strength,  and love within the majority, she doesn't hold back on the challenges.  To peg down the "last whim" scene where Clarke screamed and knelt in the desert dune in Eden, Taylor practiced her screaming locked in a car, so that the right scream could be projected.
In season six, Eliza will have her biggest acting challenge yet to date, and although not many details have been revealed, we can guess that it has to be a pretty big situation.  Hmm..any theories?
Secrets Of The 100 That We Learned
The 100  held its own box of secrets and unknown occurrences that we didn't have the pleasure of seeing.  Since it is a rather considerate list, bullets will best describe them.
As editing plays a major role before the finalized copy, there were imperative scenes that didn't make the cut.  There were two Kabby scenes (S4), a Memori scene, and a Becho scene. Don't be concerned, none of the couples are breaking up, but it was due to the editing process.

Sachin Sahel described Bobby Morley as the 'heart', Eliza as the 'head', Lola as the 'feet', and himself as the 'butt'.

There were call-ins from Jessica Harmon (who was ill) Devon Bostick (first UD experience!), and Christopher Larkin, who apologized for Monty's death.  "Sorry Monty's dead."

Eliza wanted to snatch something on set (a drawing of Alycia) but she didn't.

Jasper, Pike, and Monty are characters that Eliza and Sachin would bring back.

Raven's disability is very realistic, and Morgan prides and dedicates herself to bring it to life on-screen.

Lola Flanery is the same age when Eliza first started acting and it brings Eliza memories of being a kid again.

Paige had a difficult time separating reality and acting when it came to her addiction performance.

Abby thinks that Murphy (Richard Harmon) is her adopted delinquent son.

Harmon's view of Murphy finding the good and light stems from being accepted and being loved by Spacekru.

Luisa d'Oliviera said that relationships  embodies lots of pain, but the love is still there.  (speaking about Emori's and Murphy's relationship.)
Season 6 Spoilers
Not very many spoilers about the new season have been divulged at Unity Days, but the anticipation and excitement was still very much present.  Season 6 will be like a whole new show, set on a brand new planet.
Related: The 100 Season 6 Secrets
It is no secret however that Echo will finally have her backstory, something that Tasya is thrilled about.  While I may have theories (in a later update) about the former Azgeda warrior and spy, we will see flashbacks of how she came to be, as well as Bellamy being her rock through it all.  I am quite excited to see this development, not only because I am an Echo fan (so sue me) but it will be a great opportunity to understand her better.  We will get to see her through Bellamy's eyes, as a human being, and not just another pawn in war.   More so, Tasya is impressed with the new setting of the season six layout.
Bob Morley will be directing 6×11, which will be a very "Bellamy-centric" episode.  This will also be his first directorial job, and the second actor on The 100 to have the honor.  According to Rothenberg, Sahel, and other cast members, Morley is a natural born director with a vision and how he conveys story-telling.
Season six will be the beginning of "Book Two," as Book One ended in the season five finale.  It will feel like season one again, the characters exploring the new lands and speaking too one another.  Can we get an amen please?
There will be an emphasis on Jackson, not just as Abby's medical sidekick, but as a whole and encompassing Jackson as a character.  Additionally, there will be more focus on his relationship with Miller, who will be coping with the aftermath with his devotion to Blodreina.
Jordan (Shannon Kook) and Madi may not hit it off right away as we all have had hoped.  This is because Jordan may have trouble adjusting to the ground and that he may want to win the approval of his parents' friends.  I smell a bit of jealousy here on Madi's behalf.
Closing In
As far as we know, Unity Events Canada has no plans to hold Unity Days 4, though Sachin (and others) would love to see it happen.  The event resonates peace and safety, escaping the toxicity online; people can feel like they can truly be themselves.  I cannot speak for others, but I can speak for myself that UD makes me feel open and accepted, and for me to climb my own wall to be communicating and to connect is a huge step.  I wonder if other people can reflect.
As if there couldn't even be more positivity at Unity Days, nearly $4,000 CAD (approx. $3,063 USD) was raised through sales from vendor, One Word At A Time, of whom has a very unique art portfolio featuring The 100 characters, silhouetted by quotes and adorable chibi designs.  I could not refrain from purchasing some, because well, they're adorable, and the proceeds go to charities.  What more can you want?  The total raised will be equally contributed to Tasya Teles' Unslaved organization, Eliza Taylor's Koh Tao school in Thailand, Apopo, and Islamic Relief.
To see the merchandise of One Word At A Time, you can navigate to their Etsy Shop here.
As for the fans in attendance, there were plenty of dedicated cosplayers who dressed as their favorite The 100 characters, creating a veil between show authenticity and fan's own visual fantasy.  To create and achieve that goal is remarkable, and certainly goes unnoticed.  Additionally, it resonates a deep love, appreciation, and connection with the character(s) as they have gifted us, their spirits remain guiding.
I mean, Heda cannot be forgotten!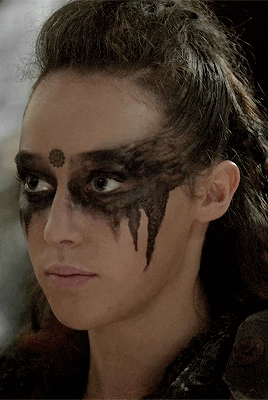 Or the darkness of Octavia.
If the Unity Days conventions (whether you have attended all three, or just one) has taught us anything-even if it is just a flicker, it is love, inclusivity, and of course, unity.  Love for a diverse and spectacular show; inclusivity because we can come together, be accepting, and share our experiences.  And finally, unity, because that is what a con should represent.  I believe that UD has done just that over the past three years, bringing fans, many from all around the globe to celebrate and become a part of a very special event.
The Unity Days conventions in Vancouver became a definite structure in fandom culture as it has formulated plenty of lasting memories and time capsules.   Additionally,we have learned more about The 100 itself, its potential, and why it has become such a dedicated and passionate staple in our lives.  We can look back and focus on the times where people connected seamlessly and with open hearts of greeting.  
If Unity Days 2019 was truly the last one, then it certainly went out with a huge boom.  As Raven would decree!
The 100 itself will debut season 6 on April 30th on the CW.
---
Follow Grounders Source on Twitter and Facebook to keep updated with the latest The 100 news.